Lật Mặt: Ba Chàng Khuyết ('Flip Flop') Crashed a VND 1 bln Worth Camera
That happened when the film crew was shooting a chase scene on steep hills at Bao Loc Pass in Lam Dong Province. More than 100 km away from Da Lat with about 107 steep slopes, Bao Loc Pass runs through spectacular mountains and immense green forests. One side of the cliff stands upright, the other side is a deep chasm. Not only that, there are extreme turns along the passageway, limiting the visibility of vehicle driver.
Director Ly Hai and his wife Minh Ha (the producer of the film) spent 2 weeks in Bao Loc with other specialists. Directly surveying the terrain, they found a right turn, not only safe for actors and passers-by, but also meeting light requirements.
A professional foreign cascadeur team was also invited to Vietnam early to have more time to rehearse. Following the scene storyboard that counted 10 pages, they controlled the pickup truck at high speed for a drift (driving technique in which the driver intentionally oversteer, causing the sliding rear wheels, while still able to control the vehicle in the desired direction at high speed).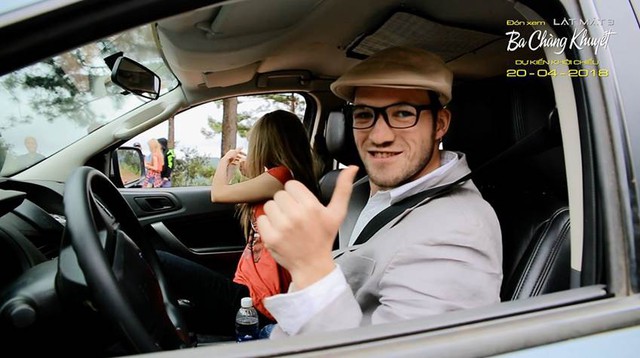 Not only that, they personally inspected the concrete blocks on the road, which were installed by art department.
With careful preparation and rehearsal, everything went smooth as originally planned. The pick-up truck flew fast over the pass, rotating at a beautiful 360-degree angle and crashed into concrete pavements by the roadside. However, due to strong wind at the top of this pass that resonated with the speed of the car, a camera worth more than VND 1 billion was swept off the road and got badly damaged.
Producer Minh Ha said: "Although expensive camera is broken, the unique footage was recorded, and that is the greatest success that our team has won together".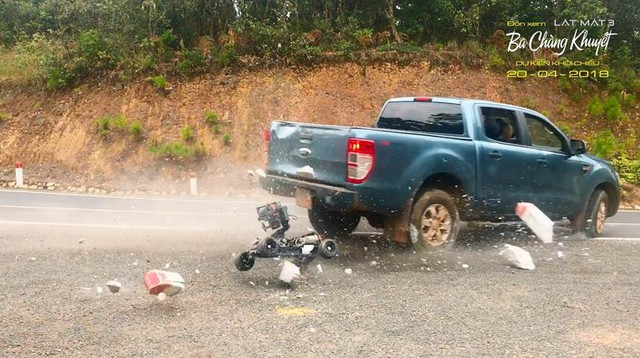 Many people in the industry now call it the 'fastest money burning scene' ever in Vietnam.
Thai hot girl Nene, who got one of the leading roles, said: "I am really overwhelmed by the majestic scenery of mountains of Vietnam. But surely this 1 billion camera will make me remember it forever".